Outstanding Flagship Projects
Sejahtera YSM (Empower Youth and Single Mothers for Sejahtera Community)
The proposed project aims to initiate activities that could develop the economic well-being of youth and single mothers living in Gombak. The lack of capital and relevant knowledge to economically sustain themselves especially during this pandemic of Covid 19 are the primary reasons for this project to focus on these two groups of beneficiaries. The project has adopted a holistic approach which integrates entrepreneurial training and personal development from a spiritual perspective. This project will equip the participants with necessary financial and entrepreneurial skills such as e-commerce, digital marketing and financial literacy/management and beading skills.
On average, most of the B40 group consists of youth and single mothers, who are often marginalised due to the disparity of income in urban environments. Employing quadruple helix network, Sejahtera YSM, a university flagship project brings together diverse stakeholders such as successful business mentors, and financial institutions to empower women and youth for higher economic status and improve their wellbeing thus leading to Sejahtera community.
"Usahawan YSM" or YSM Entrepreneurs programme has managed to produce 19 entrepreneurs from the first cohort and another 32 potential beading entrepreneurs. The programme also managed to develop and implement the E-commerce/digital marketing module, the financial literacy/management module, and personal self-development module. IIUM students were also involved to aid the participants throughout the programme as YSM Buddies. In line with the UNESCO Pillars of Education, this project provides a platform for students to "learning to live together" with the community. This is showcased through the integration of the project into nine(9) classes involving 138 students of "Usrah in Action" course, which is a compulsory course designed for the student to apply sustainable development knowledge and skills to solve real community problems.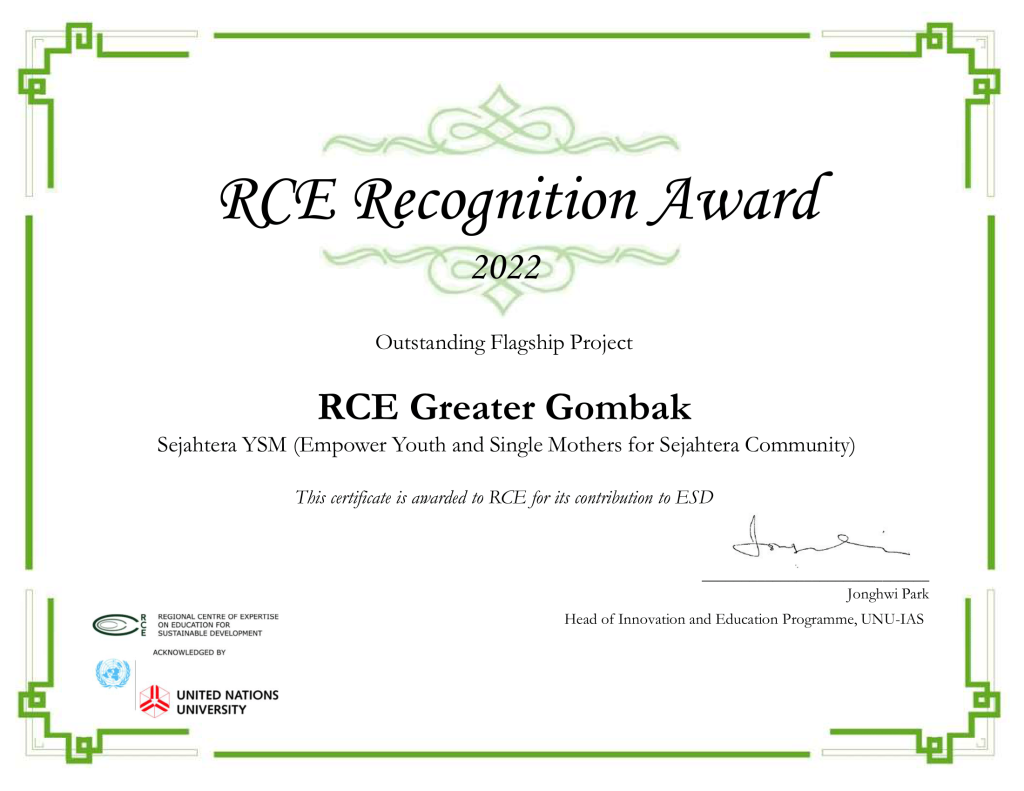 Muhajirin-Ansar Sejahtera Community (MArS) – Livelihood of Refugees and Beyond
Recognizing the detrimental impact of the laws that discriminate against the refugees from enjoying equality in livelihood, health, and education, the activities are designed to address the challenges faced by them in those aspects. Working closely with the Future Global Islamic Network (JREC) which is a partner of RCE Greater Gombak that manages Refugees Education Centres around the country tells the states of the refugees in those aspects call for medium assistance in terms of economic sustenance as well as long-term efforts for advocacy of policy reformation and alternatives for education and health. The rationale behind the combination of activities is to foster better livelihood for the refugees which include welfare protection, eradication of hunger and poverty, incorporate education for sustainable development in the engagements with refugee children and build the capacities of educators to be equipped to attend to the refugee children from the humanitarian skills.
Realizing Education for Sustainable Development for Refugees means integrating economic, social, and environmental aspects. The project acknowledged laws as a pivotal factor for livelihood, addressed hunger as an obstacle that discourages children from going to school, attended to their overall health, and empowered their community to address the sustainability issues around them.
1. Aid and Provision
-Feed for the Needy and Flood Victim Assistance – This activity distributed cooked meals and food baskets that
benefitted the families of approximately 415 refugee students and teachers.
-Funding of RM41 375 from individual for #HE4Rohingya to support Rohingya student from Johor and Penang sitting for
International General Certificate of Secondary Education (IGCSE) & national examination
2. Capacity Building
-Cross-country running, leadership camp, humanitarian week, STEM week, and photography workshops for the refugee
children – This combination of activities that involved over 800 refugee students and teachers helped with their
physical health, emotional, and mental health.
-Parents-and teachers meetings and teachers' humanitarian training – This activity engaged 50 teachers and 250 parents
and upskilled 48 teachers and 11 JREC officers respectively.
3. Integration of the project into formal required course of the university
-Sustainability Project Development (Pro-Reid 2021) – This activity produced 16 projects related to sustainable
development led by students and teachers from 6 Rohingya Education Centres (RECs).
-Community Profiling – This activity had approximately 111 non-refugee university students engaged with the refugee
community and produced a database mapping 7 refugee communities.
4. Policy advocacy
-High-level Roundtable Discussion – This activity involving 88 participants among multilevel stakeholders has produced
a report with approximately 22 policy recommendations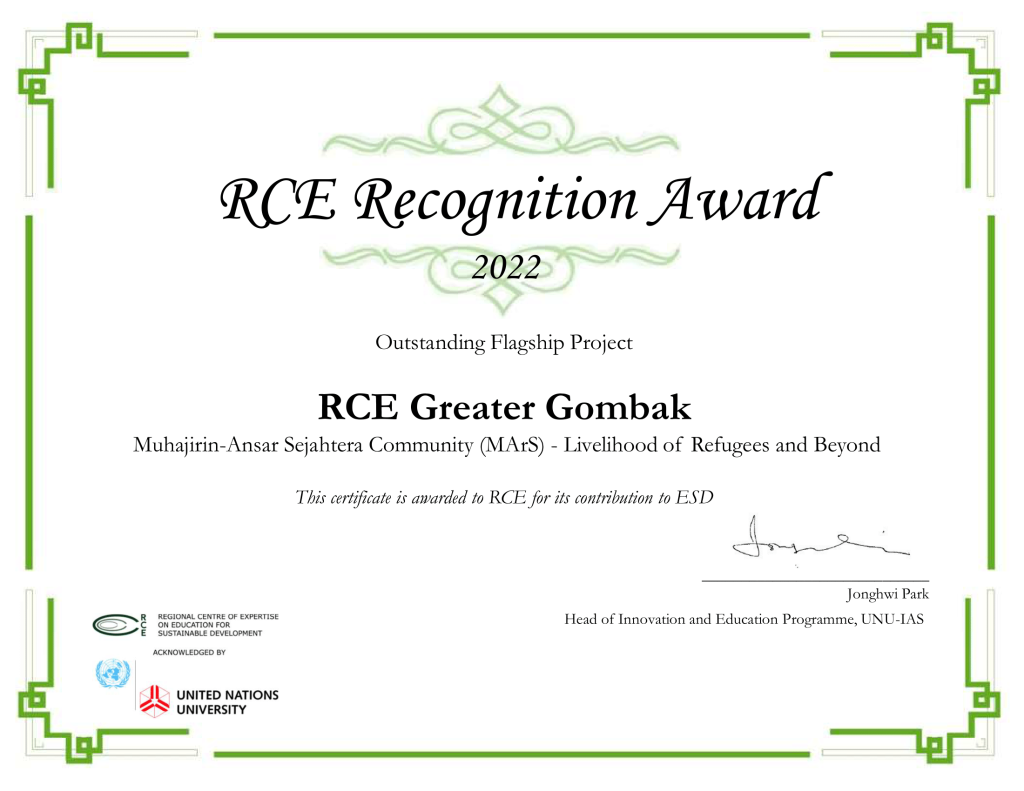 Acknowledged Flagship Projects
Substance dependence / substance use disorder is a chronic illness, where it can directly or indirectly affect people at different ages. The effects are more dangerous among the people who inject drugs (PWID) population where it can lead to the emergence and high rate of communicable disease, especially HIV AIDS. KOMITED Malaysia has come out with a holistic approach to cater different target group such as children, female drug users, those with dual diagnosis – addiction and mental health issues and other chronic diseases, the hard-core addicts (age 65 years and above) and those on job-placement and community assimilation programme. Since the clients of KOMITED Malaysia come in with various issues and the fact that it is run mainly by former drug users, it is timely that this collaborative project between KOMITED Malaysia and International Islamic University Malaysia (which is the host for RCE Greater Gombak) took place, as it aims to address various educational needs of the population. Through the holistic modules constructed, this will also offer a chance to them to change their habits and behaviour and start engaging with families and societies. This treatment facility will give a positive hope for recovery to the potential clients regardless of ages. The outcome from the programme will pave ways for the development of national policies for capacity building for sustainable health.
This is an exemplary showcase of multi-stakeholders working together and it serves as a multilayers ESD platform. This is highlighted by the involvement of at least 100 students (60 students involved in the Drug Abuse Course, 35 students involved in the Usrah in Action Course, 5 students involved as facilitators for No-smoking and data analysis workshop) , in which they have been trained and exposed to the project via credited courses and being facilitators. At least 20 IIUM staff have been directly involved in the teaching & learning, health promotion programmes, knowledge transfer and research activities with KOMITED Malaysia. There was also involvement from various stakeholders such as the State Religious Department, National Antidrug Agency, State Police Department and the State Health Department. From the KOMITED Malaysia side, it is estimated that at least 50 staff with 60 in-house and 30 drop-in clients have been trained so far via various programmes conducted. The initiatives have shown improvement in terms of their knowledge and practice of medication handling and disease management at the shelter homes.