In response to Malaysia Blueprint on Sustainable Consumption and Production (2016-2030), IIUM initiated a waste minimisation initiative as part of teaching learning, action research, community of practice, CoP which potentially contribute to transformation of the campus community towards sustainable society.
This initiative aims to reduce waste generation, minimise food wastage, and promote community gardening through education for sustainable development. More importantly, it demonstrates an action-participatory based research to accelerate the process of IIUM Sustainable Campus by involving students, academicians, and administrations.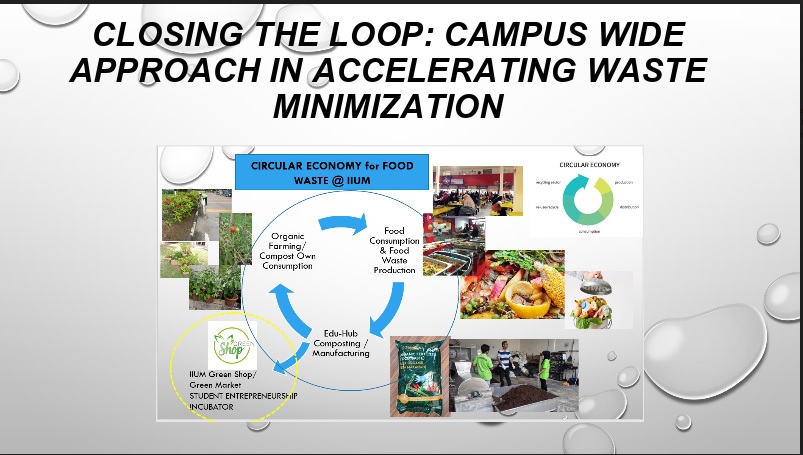 There are several strategies structured into the activities;
(i) Provision of the facilities for waste minimisation initiative that covers waste recycling facilities, food waste separation facility at caféterias, and food waste composter machine by the campus operation, IIUM Daya Bersih Sdn. Bhd.
(ii) Development of IIUM code of practice for waste minimisation.
(iii) Launching of IIUM Zero Single-Use Plastic Campaign as non-formal educational awareness especially at cafeterias, area for community garden, and source separation.
(iv) Selected course and research related to food waste, and providing venues for students to learn the real-world issues related to sustainable development.
(v) The use of compost for own consumption, such as community edible garden and landscaping to reduce the fertiliser procurement and improve soil quality and performance.
Through this initiative, IIUM has achieved wonderful results in its effort to uphold campus sustainability.
The potential to explore more into inter and transdisciplinary approach for education and research is vast. As we look into tackling sustainability issues involving our campus and the community surrounding it, more efforts by experts and volunteers from different sectors are in planning to promote social responsibility on sustainable development that would improve the environmental quality and the life within.